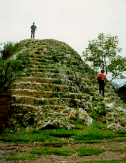 Archaeologist Mc Cown's presumption, on the area was due to the references and the listened manifestations of the old proprietors of the former country properties: Marcamachay, Jocos, Sitacocha, Wakra, Corduroy, Cujibamba, Chuquitén, Yanás and diverse places on the Marañón, where the peasant was shown of the big accumulations and concentrations of archaeological remains, strengths, platforms, aqueducts, necropolis and osarios.
Some of those mentioned evidences in Llautorco of inaccessible places, neither escaped to the hopeless fury of the looting and the preservation lack; the peasant destroyed, in his desire of snooping, the time was also and it continues destroying, being every distant time the reach for the scientific and interpretive study of that happened in these diverse places.
It is very common to observe that in the highest summits, the man has left prints of having modified these elevationswhose summits maintain remains of their walls, pircas.